&SMILE dental clinic seeks close cooperation between the patient, dentist, and dental technician. To achieve brilliant prosthetic results and to fulfil all our patients' expectations, we collaborate with RI Creo Dental Technicians Laboratory, which is among the best ones in Lithuania. Dental Technicians Laboratory is known for its highly qualified and competent specialists who have many years of experience and love their job. Heads of the Laboratory, Raimundas Bagdonas and Indrė Norkutė-Raulinaitienė, formed a team of curious, talented and diligent specialists who provide the best-quality services. Laboratory specialists constantly seek knowledge from the most famous dental technicians in the world and later share the acquired knowledge and professional experience with their colleagues by conducting courses, seminars and lectures in Lithuania and abroad. The main objective of the Laboratory is to create aesthetic, functional and precise restorations. It is not easy to replicate innate naturalness of the tooth, i.e., tooth shape, proportions, colour, anatomy, functions and aesthetics. To achieve impeccable quality anatomical and gnathological knowledge is not enough as creativity, latest technologies, modern working technique and innovative scientifically-tested materials are also of vital importance.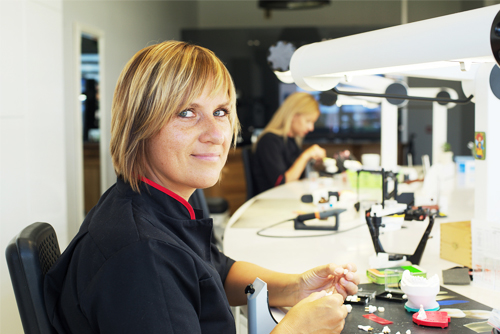 In order to restore appearance of the tooth, the team of dental technicians use a myriad of ceramic masses and paint of different colours and shades that create natural tooth transparency, translucence, opalescence and fluorescence. Dental prosthesis (crowns, onlays, inlays, laminates or bridges) made of metal-free ceramics are the most similar to natural human teeth both by their aesthetic appearance, and physical properties. Having evaluated clinical situation of the patient, he/she is recommended to have prosthesis made of certain type of metal-free ceramic:
lithium disilicate ceramics is particularly aesthetically pleasing, transparent, light transmitting and solid ceramics. It is suitable for both the front and the side teeth;
zirconium oxide ceramics – one of the most durable, yet least clear type of ceramics, thus it is recommended to use it for the production of prosthesis in non-aesthetic zone.
The naturalness and aesthetics of the damaged teeth can be restored by using composite materials. The restorations made out of composite have no difference to the natural teeth, they are cheaper than metal-free ceramic prostheses, yet their structure is not so durable.
With the advance of technologies and materials, the metal is seldom used in dental prosthesis. Although metal ceramic crowns or bridge prosthesis are cheaper and durable, their aesthetic qualities are very low, which is why they are made rarely.
More and more often missing teeth are restored by placing implants and putting prostheses on them. Our professional team makes both individual and whole jaw prosthesis of various structure, which are attached to dental implants, screwed on constructions or cemented crowns as well as bridge prosthesis on individual zirconium or standard metal supports.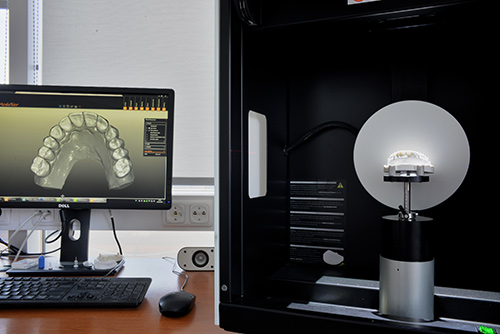 In laboratory, dental prosthesis can be made by applying the most modern digital technologies. The dental prostheses are milled on a selected material, like metal-free ceramics, composite or plastic, which will meet the needs and wishes of the client.
Our laboratory of technicians make the high-quality removable dentures, cosmetic plates, arc supporting prosthesis with hooks or lock systems, retainers on implants. Not only the production of permanent teeth, but also the production of temporal restorations, that would make the patient feel comfortable and smile wide, require a lot of accuracy and endeavor. We also make bruxism, stabilizers, bleaching or sport protective dental mouthguards, perform precise dental waxing, make individual spoons, silicon and surgical guides for dental procedures.